Permeable Greenhouse Floors – Easy with SmartPave
Permeable Greenhouse Floors – Easy with SmartPave
There it is. That unused, empty part of the section and the neighbour's ugly fence. For years, you've been wondering 'how should I upgrade my garden?' Janine and her husband from the Coromandel came up with an answer. Install a 2m by 1.2m greenhouse just big enough to grow cucumbers, tomatoes, eggplants, and chillies, and pave it inside and out with a beautiful, pebble finish.
What kind of floor should I use in a greenhouse?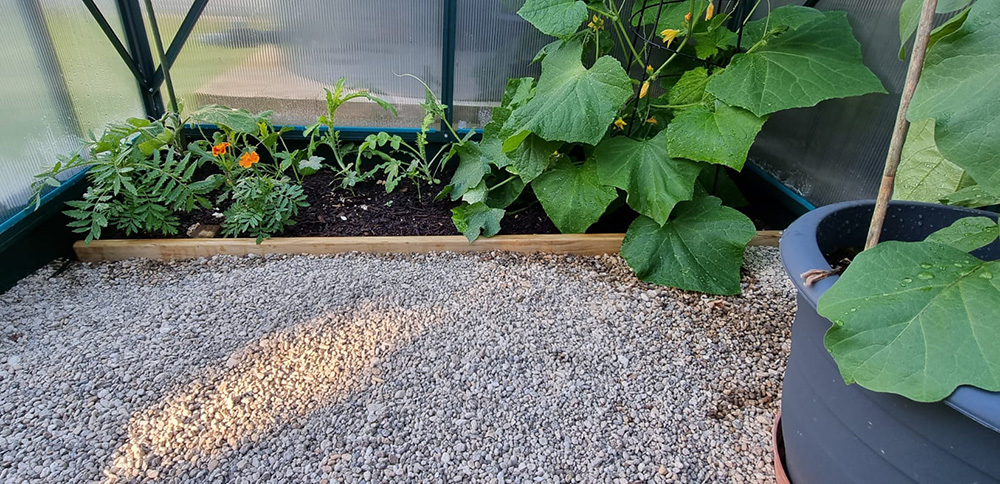 Janine asked herself this when considering SmartPave. Successful greenhouse floors allow for good drainage, insulate the greenhouse from cold, keep out weeds and pest, and should be comfortable to walk on. Janine felt concrete or pavers seemed too industrial but leaving an earth floor meant stressing about weeds and mud. She decided that SmartPave was the best of both. "It's just a bit more organic, and I quite like that crunchy gravel underfoot."
SmartPave has a geotextile backing.
It's permeable.
It's easy to cut into any shape you require.
Where can I use SmartPave?
Janine also installed SmartPave in the small gap between the greenhouse and a raised garden as a place to park the wheelbarrow. It drains easily and looks nicer than bare ground or concrete.
Use SmartPave in rectangular or angled areas, flat or land with a low gradient.
SmartPave panels are easy to cut with a hand or circular saw and simply slot into place.
Yet, building a greenhouse didn't come without unexpected challenges. "I don't recommend any couple trying to build a greenhouse together," Janine says, laughing about the heat and lack of room in her small greenhouse while working alongside her husband. "By the time we got to the SmartPave, that was welcome relief because it was just really straight forward. We used CalcuPave to work out how much we needed, so that was actually super helpful."
They also built a potting bench to go on top. It sits evenly because the legs wedge into the pebbles, and no weeds grow through because of the geotextile backing. This helps with maintenance, as all you need to do is just sweep the odd stone back into place. "It's the same with the wheelbarrow," she says, as it's often heavy, full of weeds or rubbish.  They can wheel it on and off SmartPave or just leave it without worrying about it sinking into the ground and getting stuck.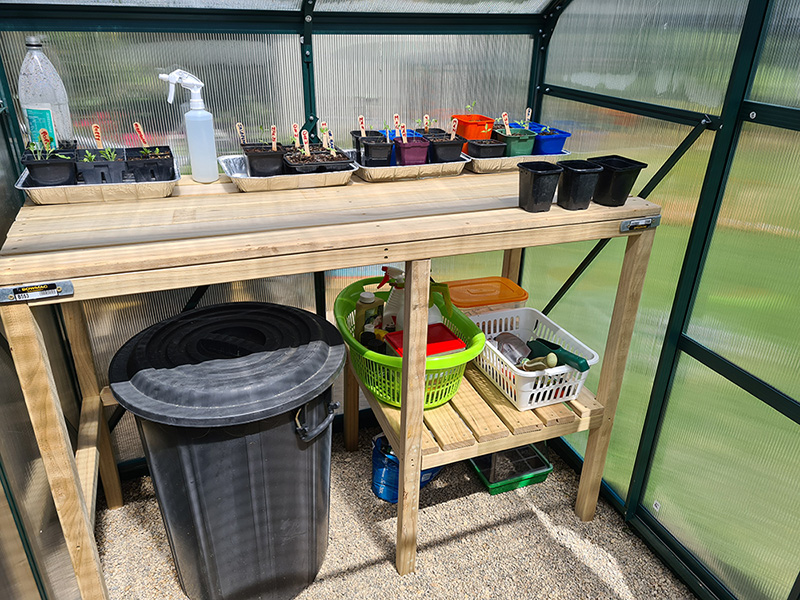 How do I stop water from pooling in my greenhouse?
Not only is SmartPave stable, but it's also permeable too, making it the ideal solution for greenhouse floors. Water simply drains through pot plants and through the SmartPave pebbles, whereas water would pool, and silt would build up around the pots if resting on concrete or paving stones. Janine went with a white pebble to suit the style of her home. SmartPave creates other opportunities around your garden. Inspired by how simple it was to install, Janine's "probably going to put in a second greenhouse," where she's planning to use SmartPave again.
"I'd even do paths. It's much nicer than just pouring concrete, and there's no problem if you wanted to roll your wheelie bin out over it or things like that. It's very stable, really firm."
SmartPave Pavers are:
100% recycled, 100% recyclable
Suitable for light traffic use
Can be installed on a 1:5 (11 degrees) gradient
Does it take long to install SmartPave?
SmartPave panels are light and easy to cut, so laying SmartPave panels in and around her greenhouse barely took a couple of hours. "A very quick morning's work," she says. Strol also provides an installation guideline for SmartPave, which is a handy tool to make the installation process easy.
Now, Janine has a beautiful greenhouse to look at and use instead of a bare patch of land and an ugly fence. "It's very dog proof," she says. Both Janine and her husband are looking forward to building another greenhouse, paved with SmartPave. This time, it'll be "a bigger and better greenhouse," though it's already been claimed for her husband's growing obsession with chillies.